Differentiators
Dual-shore Delivery Model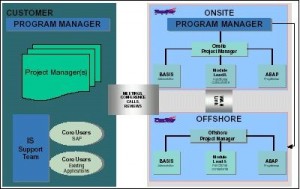 The TPN dual-shore delivery model works by breaking down a project into various phases, and selecting the physical location for the execution of each phase in such a manner that time-to-market is reduced, quality is maintained (if not improved) and costs are brought down. In addition, splitting the project team into onsite and offshore teams working at different time zones reduces the concurrent user load and offers an opportunity to bring down costs by way of reduced network bandwidth and configuration requirements of sandbox, development and QA servers. We have used this model successfully in several
custom development and package implementation projects. In the specific context of an SAP implementation program, Realization phase activities like R/3 configuration and development of Reports, Interfaces, Conversions and Extensions  offer an excellent opportunity to adopt offshore delivery
Change Management
For large and complex projects, we will include change management experts in our
implementation team. We suggest methods like training, communication and team building workshops to bring about change management. It is also important to convey a clear vision of the rationale for the program and its benefits to a broad spectrum of employees to facilitate smooth change management. TPN  will work closely with the customer's project management team in providing themes and content for such communications and workshops.
For SAP product training, we shall follow the training guidelines provided in the ASAP
methodology. During the 'Business Blueprint' phase, the 'To-Be' processes will be finalized. During the 'Realization' phase, the individual processes in various modules will be tested with the super users and, simultaneously, training material for the end-user training will be prepared. The end-user training will be done during the 'Final Preparation' phase as per the standard ASAP methodology. Our delivery will include a training framework that comprises of an assessment of training requirements, a detailed training plan and training curriculum.
We will develop training manuals and conduct training in accordance with the training plan. In addition, we will leverage our position of being among the Top 100 Knowledge Management solution providers in the world to develop a KM framework and carry out complete knowledge transfer of the implementation program to the customer's key user teams. This would ensure continuity in operations once the implementation is complete.
Risk Management
Through our experience in a number of  full-lifecycle ERP implementations, we are familiar with the risks inherent in a typical SAP implementation program, including resistance to move
away from existing point applications that are tailor-made for the respective area of operations, tendency to modify the standard SAP solution, resource contention due to other customer projects running concurrently, attrition of staff, and so on. Our methodology provides for the following risk mitigation measures:
•  Involvement of key business users right from the design stage.
•  Design and execution of an effective communications strategy that conveys the benefits
not only to the overall organization but also to the respective operating units of moving
from multiple point solutions to a single, enterprise-wide integrated SAP solution.
•  Routing any deviations from the standard SAP solution (i.e. "change requests") through
the Project Steering Committee for approvals, and using our SEI-CMM  certified
processes for systematic processing of the approved change requests.
•  Continuous interaction with the executive sponsors to ensure that adequate customer
resources continue to be dedicated to the SAP program despite contention from other
projects that might be running concurrently in the customer organization.
•  Control and management of employee attrition through an organizational culture that
facilitates free and fair communications, progressive HR policies like job rotation and
performance-based compensation, and, above all, a management philosophy that
recognizes that people are our greatest asset. In addition, we deploy a central pool of
buffer resources to work closely with the core team. These "buddies" are equipped to take
over from members of the core team in the event of unexpected attrition.